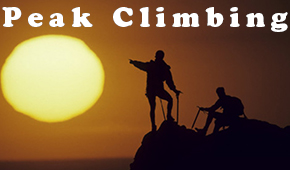 Peak Climbing in Nepal require little or no previous mountaineering experience, it is suitable for those with a high level of fitness and endurance.
Peak climbing adventure gives you the opportunity to behold the never-seen-before locations ranging from mountains, glaciers, tarn, backpacking and famous mountain trails.
Among the identified 1310 peaks above 6000 meter, one quarter are officially opened for mountaineering activities, including the 'trekking peaks'.
The Trekking Peaks of Nepal gives enthusiastic climbers an opportunity to attempt a high Himalayan peak without having to organize a major expedition. Although these peaks are lower than their more famous cousins - the 8000 meter peaks, many of the climbs are no less demanding and adventurous in nature.
By Himalayan standards these are considered minor peaks, but in fact some of them are relatively challenging snow and Ice climbing of high standard.
Our qualified and experienced guides/sherpas will carry out a training program at the Base camp before attempting the summit, and teach you the basics of handling ropes and other climbing devices including safety measurements.