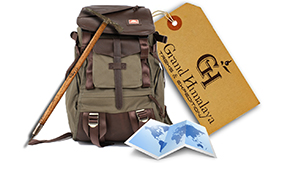 Grand Himalaya Treks & Expedition was established in the year 2013. The company acts as a veritable magnet for free spirited individuals fascinated with climbing the highest mountain on earth "Everest" and trekking in the most isolated highlands of the Himalayas. Our decades long partaking in the outdoor adventures, specializing in trekking and mountaineering expeditions have taught us about the significance of 'Tourism'. Our trekking and climbing adventures in the Himalayas will take you by wonder by the ethereal mountain scenery amidst towering peaks and also by the unique brand of syncretic Hindu and Buddhist religious practices.

Grand Himalaya Treks & Expedition is a government registered private limited company with the registration number 601491894 and has a registered office at Chabahil Stupa, Near Ganesh Temple, Kathmandu, Nepal. We are affiliated with all the chief trekking and mountaineering associations of Nepal which includes Nepal Tourism Board (NTB), Trekking Agencies' Association of Nepal (TAAN), Nepal Mountaineering Associations (NMA), and Kathmandu Environmental Education Project (KEEP). We offer a vast array of exhilarating trips which expends from the beautiful Himalayan glaciers and brightens up the high Himalayas towards the melted white waters which carves through the majestic hills in the middle and then nourishes the southern plains enriching the flora fauna.
It is our great pleasure and honor to be part of your next adventurous trip and we are looking forward to make this "the adventure holiday" of your lifetime. We don't promise you an easy path to the mountains. However, we can assure you that the joy of being at the peak and on the cozy lap of the Himalaya would be enough to counter all your pains. We believe that the adventure should be part of everyone's life. It is the whole difference between being fully alive and just existing. "Travelling, it leaves you speechless, then turns you into a storyteller. - Ibn Batuta'' And we hope that at the end of your trip you would be filled with many stories to share and memories to cherish.