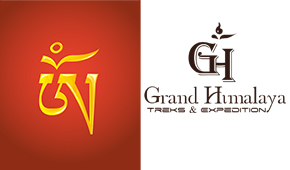 All the founding members of Grand Himalaya Treks & Expedition are Buddhist and our faith is rooted in Karma, "As you sow, sow shall you reap".
We are committed to delivering world-class services to our valued guests and we'll leave no stone unturned to make our clients' adventure holidays in the Himalayas a lifetime experience.
Hence, we came up with this notion of our unique logo.
Our logo GH, which is an abbreviation of Grand Himalaya, signifies the word OM.
The word OM is derived from the mantra "OM MANI PADME HUM", which is the most sacred mantra in Buddhism. It is the six syllable mantra of the Bodhisattva of compassion, Avalokiteshvara.
The Basic English translation of "OM MANI PADME HUM" is "Behold the jewel in the lotus".
OM, it is composed of three letters A, U, M; these symbolize the pure exalted body, speech and mind of a Buddha and Bodhisattva. OM purifies bliss and pride (realm of the Gods).Thus the six syllables, OM MANI PADME HUM, means that through the practice of a path that is a union of love and compassion with wisdom, you can transform your impure body, speech and mind into the pure exalted body, speech and mind of a Buddha.

Every traveler who visits the lands influenced by Tibetan Buddhism is often enshrouded by this mantra. It is commonly carved onto rocks lined along the footpath and written on paper which is inserted into prayer wheels. Fluttering prayer flags colorfully printed with this mantra are stretched across mountain passes and hill tops.
The Himalayan people chant this mantra before they carry out any task, for it is believe that this mantra brings good luck and ward off the evils. This being the case the Sherpa's too recites the mantra before they set off for their treks and mountaineering expedition.
Moreover, the Tibetan and Sherpas strongly believe that this mantra protects the Himalayas and its inhabitants.
Thus we chose to take the concept of OM as our logo, hoping that it would bring you luck and fulfills all your wishes. "OM MANI PADME HUM"